Fogg B Major
Details

Created: Saturday, 10 September 2011 05:18
Hits: 7625
Fogg B Major
Bought a Fogg B major in charcoal/oak. The same nice feeling as the Fogg Diva and B minor that I have. The bad news is that my bag is probably the last using the charcoal fabric. But Fogg will replace the charcoal fabric with another colour but I have not got a chance to view the sample. There are tell-tale signs on my bag that mine could be using the last inch of charcoal fabric and I guess I am lucky that I had ordered the bag 'on time' hahaha.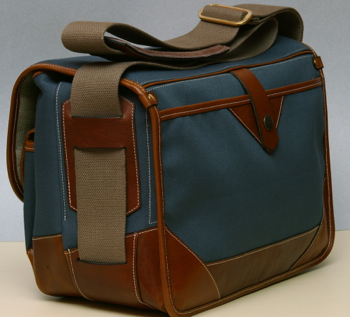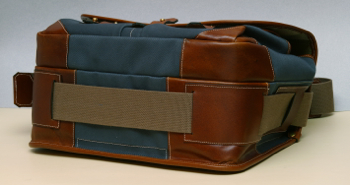 The B major comes with two front small pockets. Immediately after the front pockets is a side pocket with zip, followed by another side pocket. There is also a back pocket locked by button. This year happens to be also the 25th Anniversary of Fogg bags (1986-2011).
The B Major can be configured to be a camera bag or with the organiser panel becomes a travel or office bag. The photos below show a office bag configuration (a bread container, a recycle shopping bag, a CD, portable CD player with headphone amplifier and headphone, a magazine, spectacles etc) on the left and a photo bag configuration (Contax Aria SLR below, a 28f2, a 50/1.4 and a 135/2.8, Metz 40MZ3i flash, and on top a Rollei 35RF rangefinder with trigger winder) on the right. Both are with the organiser panel. Without the organiser panel the bag will have bigger place for arranging the photo gear.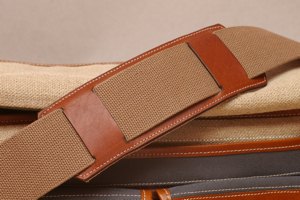 Below is a comparison between a B Minor and a B major. The B major is a slightly bigger bag than the B minor, which is slighly higher and longer. The width is about the same. The actual bags the B Major looks much bigger than the B minor. The B major is able to accommodate A4 size documents (about 8 in x 12 in). The B minor is not able to accommodate A4 documents. The B major is not big enough for a laptop computer. However, it should be able to house a netbook, MacBook Air or iPad.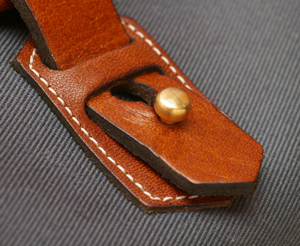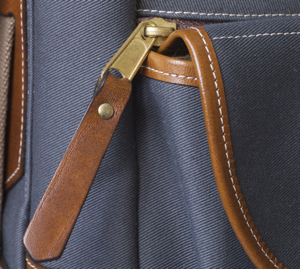 The bag model, serial number and my initial are branded in the bag.

Very fine stitching of the Fogg bag.

25 years of Fogg bag, 1986 to 2011.

Hand made in France.