Piccolo/Quaver
Details

Created: Sunday, 05 August 2012 00:51
Hits: 6423
Piccolo and Quaver
The Elegant Pouches
The Piccolo on the right, and Quaver on the left.
I like my Fogg Diva holdall, B Minor and B Major satchels very much. Now it's time for some small size pouches. It is kind of difficult to figure out which is the correct size for me, as all of them seems more or less the same size based on internet specifications. I then decided to try the Piccolo and the Quaver, in Moss/Havana colour combination.
Piccolo is the smallest Fogg pouche with the shoulder strap, which can be removed and the Piccolo can then attached to a belt or any Fogg bags, or the shoulder strap of any other bags.
The back of the pouches made by Fogg has a unique design to allow the pouches to be fixed to a belt or attached to a vertical strap.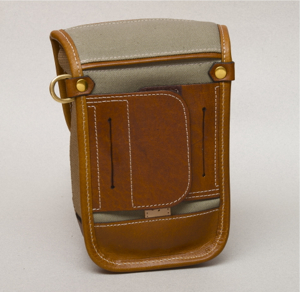 Back of Piccolo at the left, Piccolo with back flaps opened and the Quaver at the right.
Back of the Quaver with the Piccolo at the right.

The Quaver attached to a waist belt, next to the Piccolo.

The Piccolo attached to a Fogg B Major (left), the Quaver attached to a Fogg B Major (right).
What possibly a Piccolo pouch can hold:
A Rollei 35RF (Bessa R2) with trigger winder.
A ZM 85/2 Sonnar or a 8x25 Bino.
What possibly a Quaver can hold:
The Quaver can hold a ZM 21/2.8 Biogon with hood detached in the front pocket, or a wallet and a handphone, or a small portable headphone amp (like the Headroom AirHead) with a MP3 player, or a small digital camera. Note that both Piccolo and Quaver have a small front pocket.
Or if you attached the Quaver to the Piccolo, you can carry a rangefinder camera and one or two range finder lenses.