Little Sisters of the Grassland
Details

Created: Saturday, 12 December 2009 05:13
Hits: 5372
The Little Sisters of the Grass Land
草原小姐妹 琵琶协奏曲



A typical concerto of Chinese style would be the well known Yellow River Piano Concerto and the Butterfly Lovers Violin Concerto. Both of these the solo instrument is a western musical instrument, supported by western symphony orchestra. The Butterfly Lover Concerto probably inspires many to follow the form to compose many concertos based on a legend or a story and the concerto is very often performed without breaks between movements. Very often also is a part where the solo instrument sings with a solo cello. Later date we get Chinese concertos with Chinese orchestra supporting Chinese instrument. There are also few examples with western orchestra supporting Chinese instrument, and one of them is The Little Sisters of the Grass Land.

The Little Sisters of the Grass Land is a Pipa concerto, which will remind most people of the very famous China pipa soloist Liu De Hai (刘德海). I have a deep impression of this concerto because I had heard a live performance of it by Liu De Hai in Singapore with Singapore Symphony Orchestra (SSO) probably 2 decades ago.

Like many early concertos written by China composers, this piece was jointly composed by Wu Zu Qiang (吴祖强), Wang Yan Qiao (王燕樵)and Liu De Hai. Its first performance was in 1977. The music is about two Mongolian girls protecting their sheeps in a thunder storm. The concerto comprises of 5 parts: Herding sheep in the prairie, struggling in the storm, moving in the cold darkness, caring from the Party, thousands of red flowers blossoming. The concerto has nice melodies, musical structure is simple and straight forward, a piece easy to appreciate.

I have two versions of the concerto. One version is with Liu De Hai as soloist, supported by Central Philharmonic Orchestra of Beijing, and the other version is Hugo Label with Wong Ching as pipa soloist supported by Russian Philharmonic Orchestra conducted by Mak Ka Lok. When I was a Junior College student I heard a version by Boston Symphony Orchestra conducted by Seiji Osawa with Liu De Hai as soloist. However I had lost the cassette of this recording. But to my memory that performance of Seiji Osawa and Liu De Hai was not very impressive for some reasons. The Hugo version being a recent recording the sound effect is much better and Wong Ching performance is good. But I still love that live performance of Liu De Hai with our local symphony orchestra SSO. That performance was conducted by Choo Hwee. I was lucky enough a friend of mine managed to record from radio boardcast that live performance and I had made that recording into CD format. Well, one cannot expect much from the sound effect but that performance in my opinion Choo Hwee and SSO had supported very well. Liu De Hai was so amasing in that performance and the pipa behaved as if was part of his body. Liu De Hai presented so much showmanship in that live performance (maybe a bit too much) and he made that performance so enjoyable in many ways. Compared to his recording I have on hand, the recording has obvious technical flaws on the soloist and also the orchestra.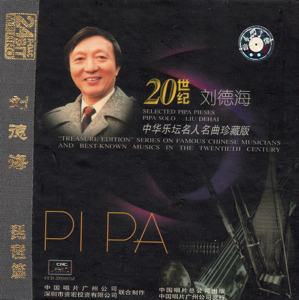 I still can remember in that concert, Liu De Hai encored many more pieces. One of them was Moonlit River in Spring (春江花月夜). The last note he played in the quiet concert hall seemed to echo so gently and forever!




草原小姐妹 琵琶协奏曲
1。草原放牧
2。与暴风雪博斗
3。在寒夜中前进
4。党的关怀记心间
5。千万朵红花遍地开


刘德海
中央乐团交响乐队
指挥 李德伦


王静
俄罗斯爱乐管弦乐团
指挥 麦家乐