Contax RTS III
Details

Created: Saturday, 02 January 2010 06:07
Hits: 7182
The Mighty RTS III Professional Tool

A solid RTS III using 6 AA batteries or 1 2CR5 battery in 3 fps only.


The RTS III is probably still a very advance film body even by today's standard. When using the RTS III, the only feeling is it is fast, and very fast in response. A huge and heavy body, featuring top shutter speed at 1/8000, flash sync speed at 1/250, spot metering mode, mirror lock up, 5 frame-per-second shooting mode, double exposure, TTL pre-flash evaluation, and still the only vacuum suction film pressure plate to ensure the best film flatness.
RTS III comes with a data back that prints data between frames (left);
It provides 2 metering modes (centre average and spot, right).

While the feeling of using RTS III is fast, the shutter lag of RTS III is slightly slower than the lightning fast RTS II, probable at the request of users. The RTS II shutter is so sensitive that it cannot be used to activate metering and therefore a metering button is provided at the front of the body. In RTS III there is the same metering button but the shutter button is good enough to activate the metering without accidentally trigger off the shutter.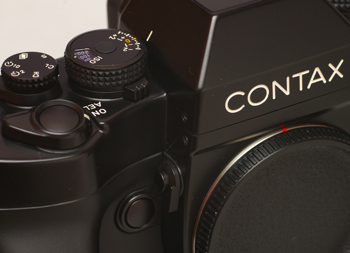 On the right below the pentaprism there is a switch for mirror lock up and next to it a metering button (left);
Top shutter speed is 1/8000, flash sync at 1/250, lockable sync at 1/125. No programme mode for RTS III.


The RTS III provided a bright and big 100% view finder. Some users prefer the RTS II non-100% finder and find it better for critical focusing. The RTS III is using the unusual blue LEDs in the finder. Although the blue LEDs are sweet, they are prone to fading and is a very common problem in used RTS III, where the LEDs are either too dim to be used under strong sun light, or are totally disappeared due to old age. Thus when buying used RTS III this is an important point to check.
Various motordrive modes (left) including single shot, 3 fps, 5fps, double exposure and self timer;
The data back prints between frames and comes with a vacuum suction pressure plate (right).

There are few interesting features incorporated in RTS III. First the TTL pre-flash exposure check, where flash exposure can be checked with a switch, and even a non-TTL flash can also be used with this function. The other is the vacuum suction film pressure plate. According to Contax this function will ensure the total flatness of the film and thus will ensure sharpness of the picture. In practice I am not sure how significant this function is although I think it will be more prominent in the medium format Contax 645 model. Also I am not sure how to check this function when buy the camera used.


All in all, RTS III is a very professional camera body and definitely is a joy to use if weight is not too much an issue to you. However, you will need to check carefully a used one unless you are buying from someone you know very well.